Finance Business Service
CMO of FBS Elena Tkachuk Conducted a Master Class at the V International Forum on Promotion of Legal Services PLS
Subscribe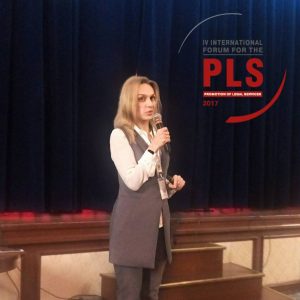 On December 6, Elena Tkachuk, the CMO of Finance Business Service, performed at the V International Forum on Promotion of Legal Services PLS with a master class on the topic "Law Firm on the Internet: Where and How to Catch a Client." The event, which organizer, according to the tradition, was the newspaper of Ukrainian lawyers, "Legal Practice", took place in the conference hall of the Premier Palace Hotel (Kyiv, Shevchenko Blvd./ Pushkinskaya Str., 5-7/29).
The presentation of Elena Tkachuk was intended for everyone who wants to know what promotion tools on the Internet would help to raise brand awareness, create an image of a company of professionals of international level, attract new customers and increase the number of sales. Judging by the fullness of the hall, there were enough such people among the Forum participants. What kind of promotion to use - paid traffic or SEO optimization, where to invest more resources and what to start with, what is the marketing role of social networks and messengers, what the chatbots can do in a law firm - these and other issues were discussed in detail during the master class.
The speaker made a special emphasis on the importance of using such social networks as Facebook, LinkedIn for the promotion of legal services and, "if creative is enough" - Instagram. The analysis of age and gender characteristics of the users showed that Facebook represents today the most active and promising audience for legal business, that is, the leads from it are potential customers of the company. In addition to creating or optimizing the page on Facebook, Elena Tkachuk recommends using the main trends of this social network, namely Live-video, chatbots and Lead Ads. Other types of online activity were not ignored: the recommendations were made on structuring the corporate site, conducting mailing, choosing messengers for business communications, preparing publications in internal and external sources, creating a page on Wikipedia, etc.
According to the expert, the effective promotion of legal business today is possible only with a competent combination of "organic" and contextual advertising: it is "double presence" with the use of all available sources that makes it possible to generate the maximum amount of traffic.